For those of you who follow ClayMotion on Facebook, Twitter or Instagram you will know that there have been some major renovations happening in the studio… and, yay, they are now all finished!
The renovations were begun during the last two week school holiday break in response to growing class sizes. I decided I needed  separate glaze room and additional storage space. So in we plunged, "we" being the hubby and I!
I am happy to report that most of the structure, and all of the shelving and storage units were made using upcycled materials. The only new materials we bought were the flooring, ceiling, walls, beading and insulation. The frame was built using recycled timber and the roofing recycled tin, and the windows came from 1) an old tabletop and 2) my house – a window that had been removed when building a verandah onto the back of the house. The paints were left overs from previous projects.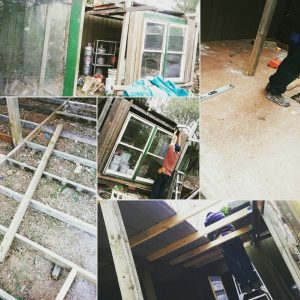 I'm really happy with the 'recycling' concept, as it offsets the footprint I leave with things like gas firings and transporting clay and glaze ingredients.
As mentioned the renos were started during the last school holiday period with the intention of having them finished by the time classes resumed, but we all know building projects never go to plan!! The main structure was complete by the two weeks, but there were a few bits & pieces that needed finishing – a bit of beading, for example – but the biggest delay was getting the kiln reconnected!!
However, the delay has perhaps been a little serendipitous. It gave me time to think about needing another kiln, which I did!
I decided I needed a new bigger kiln or another average sized kiln to service my growing business and I thought I should try to purchase one asap so that both kilns could get connected at the same time. I was lucky enough to find one really quickly – and a bargain – by posting a Wanted to Buy in some local Buy Swap & Sell Groups on Facebook. I received a reply quite quickly – a port o kiln which was about thirty years old, but that had never been connected or used…. just sitting in someone's shed – in new condition!! (rubs hands together). They are both now reconnected, after a few weeks delay, so I am now in catch up mode on class work. I must the stents have been very understanding which has been great!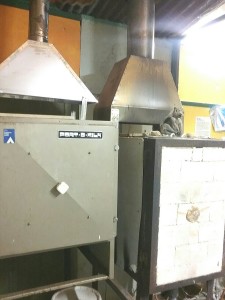 The renovation has basically added two open space areas on the side of the existing studio. these spaces have become a glazing room and storage area. The other part of the renovation I love is the new 'library' area – perfect for sitting with a cuppa and browsing books or developing ideas in my visual diary. This corner in the existing studio was the old glaze area, but with everything being moved into the new room I could create this cozy space, something I have always wanted to do.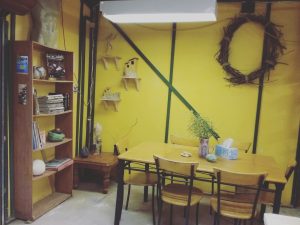 Creating the library cleared a space in a cabinet (where I used to store books) and this has now become a display cabinet for tools and equipment for sale – yes I also sell ceramic supplies and post Australia wide. the postage is included in the prices which are in the online shop on the CLAYMOTION website.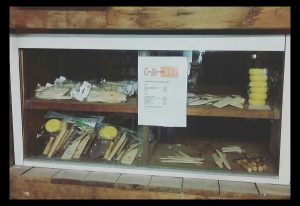 There is still a bit of re-organising and tidying up to do, especially outside in the yard, but here are some pics this far