ClayMotion birthday parties are available for adults and children, are a great alternative to fast food parties and are available to be booked on weekends, from either 10-12 noon or 2-4pm, and from 4pm during the week. (except Wednesdays)
Birthday goers get to see and experience a 'real' artist studio and have a creation that they have made and can keep forever- this can be a fascinating experience!
Children make and decorate a treasure box each. After the creative activities a birthday cake is supplied. Parents are welcome to bring other party foods and drinks – though not too much as the children will be busy creating!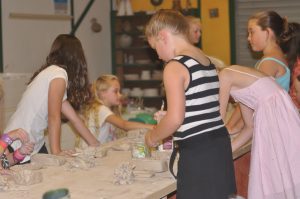 Adults can also make a treasure box, though there is more scope for personalised projects such as vases or fruit bowls, for example.
Price includes materials (clay, glaze, etc), kiln firing, birthday cake and balloons (coffee/tea for adult parties). $42.00 per child. Maximum of 12 adults/children, minimum of 5 adults/children. Bookings can be made via email or by phone on 0438382522, or vi the SHOP