ClayMotion is excited to introduce mosaics to our range of classes. Dawn, the owner and manager of ClayMotion, has wide experience in mosaics, with her most recent project being collaborating with a special needs group at The Phoenix in Sebastapol, Ballarat. You can check out this project HERE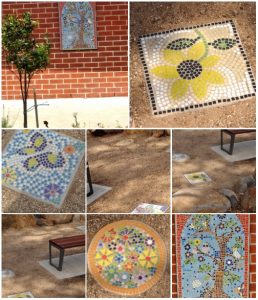 The current workshop being offered is a wonderful combination of pottery and mosaics with students modelling their own centrepiece around which a mosaic will be built. The modelling of the centrepiece can be handmade, created by stencils, or created by using press moulds, of which there are plenty of options in the ClayMoton studio. The surrounding mosaic will be created using ceramic shards (broken pieces of pottery).
The course will run for four weeks from the 14th February till the 8th March on the following schedule:
Week One: Create centrepiece/s
Week Two: Glaze centrepiece/s: begin layout of surrounding mosaic
Week Three: Glue centrepiece and mosaic layout
Week Four: Grout mosaic
Each class will run for two hours, and all materials will be provided.
Coffee and Tea is also provided (for adult classes)  🙂
Classes are being offered for both adults and children at these times:
Adults: Wednesday Night 7-9pm & Thursday Morning 10-12noon
Children: Thursday Afternoon 4-5.30pm
The cost of the all inclusive course is $205.00 for adults and $160 for children
Enrol via the SHOP or call me on 0438382522