The first week of the January School Holiday program here in Ballarat is almost over and what a blast it has been and we are super excited about next week!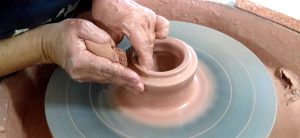 But before next week we have a "Have a go at the Pottery Wheel Drop in Day" this Saturday – drop in anytime between 10.30-3.30 and throw a pot! All ages welcome – as long as your feet can reach the pedal, but if they can't the little ones can always sit at the bench and have a Make an Animal experience. $15 includes clay, tuition and kiln firing.
Then next week we have morning workshops with Pottery Fantasy Creatures on Tuesday, Wednesday Mosaics and Thursday Acrylic Pouring – suitable for children 7+ and parents are also welcome to enrol and join in.
The craft corner is open every afternoon, and all day Fridays for some crafty fun – again suitable for all the family. No booking required.
And on the final Saturday of the school holidays there is another drop in day and we are doing acrylic pouring – choose from two sizes – 15cmx15cm = $15 or 20cmx25cm = $25 includes all materials and tuition. No booking required.
All of the morning workshops have limited vacancies – more info and online enrolments are HERE or call me on 0438382522.
Information about the Drop in Days is available HERE
And DRUMROLL …. here are some pics from this weeks program – congrats everyone – great creations!
To see more school holiday fun from previous workshops visit the ClayMotion FACEBOOK and INSTAGRAM pages – and be sure to follow us for updates.
Please see ClayMotion Terms & Conditions HERE