ClayMotion is excited to introduce mosaics to our range of classes. Dawn, the owner and manager of ClayMotion, has wide experience in mosaics, with her most recent project being collaborating with a special needs group at The Phoenix in Sebastapol, Ballarat. You can check out this project HERE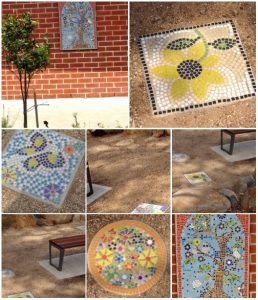 During term four children will create a garden paver which will be created from tiles and ceramic shards. The project will run for two classes over a two week period. This project suits the age group of 8-13years (this is a guide only – you know your child best) There is no tile cutting involved.
Week 1 – create, adhere and mortar paver.
Week 2 – grout paver, clean and polish
Time: Thursday 15th and 22nd November 4.00 – 5.30pm
Cost: $55.00 and includes all materials.
Enrol via the online shop HERE or drop into the shop and say Hi.
**Please note** Classes require a minimum of 5 enrolments. Please see ClayMotion's Terms & Conditions for more information.